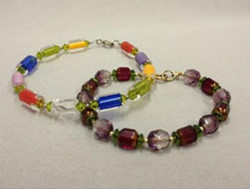 Make 2 Bracelets: Intro to Stringing
Date and Time: 01/19/2019 from 10:00 AM - noon
Capacity: 8
Instructor: Cheryl Weatherford
Prerequisites: No experience needed.
Description:
This class places a focus on professional stringing and design techniques.  You will make two bracelets using Czech Republic glass beads and sterling silver.  Two different stringing strategies will be taught:  nylon finished with bead tips and flexible wire finished with crimp beads. Both bracelets will be secure and beautiful.
 Note this Bargain: Also sign up for Make 3 Pairs of Earrings and receive double rewards points.