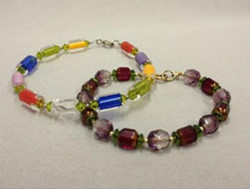 Make 2 Bracelets: Intro to Stringing
Date and Time: 10/14/2017 from 10:00 AM - noon
Capacity: 8
Instructor: Karen Kubby
Prerequisites: No experience needed.
Description:
Bracelets are big this season.  Wearing multiple bracelets at once is even better.  This class places a focus on professional stringing and design techniques.  You will make two bracelets using Czech Republic pressed glass beads and sterling silver spacers.  Each will use different stringing materials. One bracelet will be made strung on nylon and the second bracelet will be strung on flexible wire.  You will learn how to use crimp beads to finish the second bracelet.  Both bracelets will be secure and beautiful.
 Note this Bargain: Also sign up for Make 3 Pairs of Earrings and receive double rewards points.