Events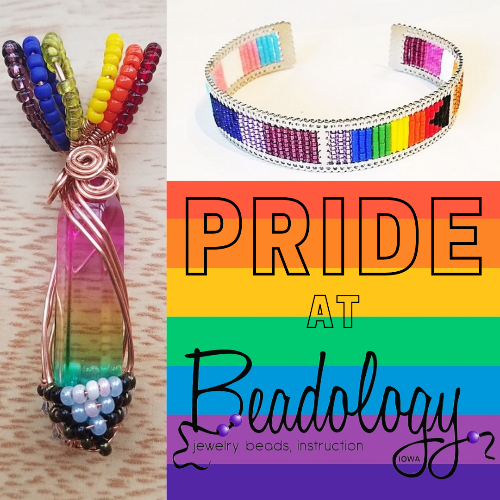 Date and Time: 06/11/2022 from 10:00 AM
Cost: $68-$78
Capacity: 6
Description:
We have two new, LGBT-focused classes in time for Pride Month.
Pride Point Pendant – Sunday 6/5/22 – Students will learn to wrap a double terminated glass point with wire, embellish it, and add a bail.  Wear your new pendant with Pride! Class taught by Cheryl Weatherford.
Pride Flags Cuff Bracelet – Saturday 6/11/22 – Using a metal cuff like a loom, students will create a Pride Flags bracelet. It includes the Lesbian, Gay, Bisexual, and Transgender flags. Class taught by Alyssa Jakowchuk.
Both Classes are no experience needed! So get ready for Pride Fest June 18th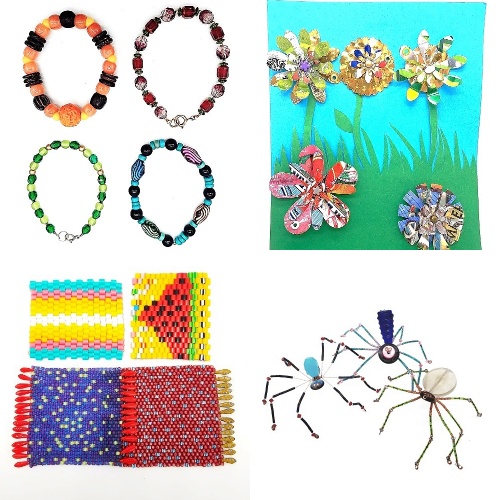 Date and Time: 06/23/2022 from 8:30 AM
Cost: $60
Capacity: 5
Description:
Join us for KICK Camp for Kids through Kirkwood Community College. Kids aged 12-15 can sign up for individual days or all four. Each day costs $60 ($30 instructor fee/$30 materials fee). Instructor is Alyssa Jakowchuk. Click the links to register:
Intro to Stringing: Make Bracelets –  6/20/22 – Do you love jewelry and jewelry design? Become an expert beadologist using Czech Republic pressed glass beads and sterling silver spacers to make  one-of-a-kind bracelets.  Learn different bead stringing and finishing techniques to make beautiful creations.  Each person will make a bracelet using flexwire, nylon, and elastic!
Upcycle Bouquet Creations – 6/21/22 – Have you ever dreamed of taking old objects that would normally be thrown in the trash and making them beautiful and functional?   In this camp, we'll be making bouquets of flowers out of aluminum cans.  Learn aluminum cutting techniques and how to layer and bind them to create dazzling bangles for pendants, earrings, backpacks or headbands! Turn your creations into a piece of jewelry during class.
Mug Rug Coaster – 6/22/22 – Learn methods of bead stitching and design while creating a one-of-a-kind coaster.  Campers will design their own patterns out of perler beads and bring their creation to life using the peyote stitch and a big eye needle.  Make a second mug rug from glass beads.  Show your creative expression and create your own Mug Rugs!
Beaded Bugs – 6/23/22 – Learn methods of 3-D glass bead design to create a scary, yet fun spider!  Campers will use Czech pressed glass beads and wire and follow a tutorial to make their own sculpture.  Then design your own bug—real or imagined.  Become an expert beadologist creating one-of-a-kind art pieces!