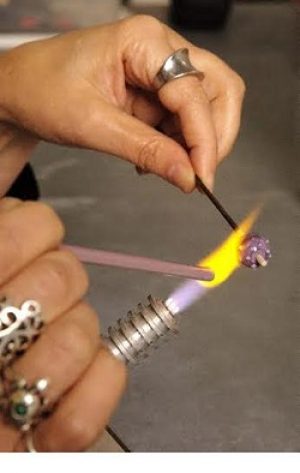 Date and Time: 10/08/2021 from 5:30 PM - 9:00 PM
Capacity: 6
Instructor: Karen Kubby
Prerequisites: No experience necessary.
Description:
This class will teach you the art of lampworking, a technique of using a torch and melting glass rods to create various shapes.  Safety and appropriate equipment handling are emphasized.  Your beads will need to stay in a kiln overnight to be annealed.  No previous experience needed.
NOTE:  Participants must be at least 15 years old.   
Registration is through Kirkwood Community College. Register at:
kirkwood.edu and go to Continuing Education and then search for Beadology Iowa under the instructor search.  On site registrations will be taken if registration through Kirkwood meets minimum requirements of two participants.
$40 instructor fee/$75 materials fee
Read more
Class Cancellation Policy
Class fees are due at time of registration. Cancellations must be made at least 5 days in advance of class in order to receive store credit. There are no cash refunds for cancellations issued by the student.
If Beadology Iowa cancels a class, the student can choose to transfer registration to another class, receive store credit, or receive a cash refund.
With a completed class, participants will receive a single-use card good for double rewards points on an entire purchase within 10 days of the class.