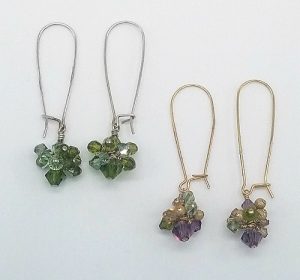 $

88.00
Date and Time: 01/22/2022 from 10:00 AM - 1:00 PM
Capacity: 6
Instructor: Karen Kubby
Prerequisites: Ability to make a wrapped loop. See Make 3 Pairs of Earrings on Jan. 15 or call for a private tutorial.
Description:
This class will perfect your wire wrapping skills. Make wrapped loops of Swarovski crystals, pearls, and precious metal beads. Then stack them to make a wild and sparkly cluster. A long ear wire will show off your work.
Add to cart
Class Cancellation Policy
Class fees are due at time of registration. Cancellations must be made at least 5 days in advance of class in order to receive store credit. There are no cash refunds for cancellations issued by the student.
If Beadology Iowa cancels a class, the student can choose to transfer registration to another class, receive store credit, or receive a cash refund.
With a completed class, participants will receive a single-use card good for double rewards points on an entire purchase within 10 days of the class.