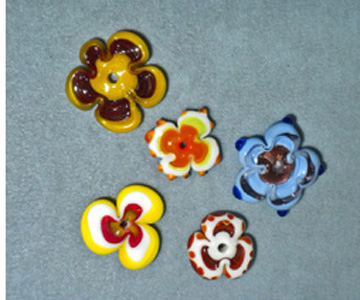 Flower Power: Glass Flower Disks–Only one seat left!
Date and Time: 09/22/2017 from 5:30 PM - 8:30 PM
Capacity: 7
Instructor: Karen Kubby
Prerequisites: Intro to Lampworking--see class on September 16, or equivalent skills.
Description:
Learn to make a disk with layers of colors.  Spot heating will allow you to use tools to manipulate the glass into a flower.  These beads are great for making pendants and earrings.
Take both Make Glass Beads and Flower Power and be awarded double points.