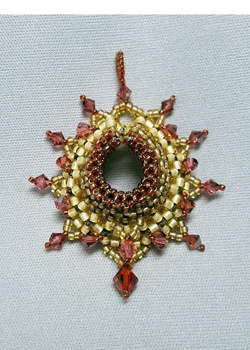 CRAW Starburst Pendant
Date and Time: 01/20/2018 from 10:00 AM - 4:00 PM
Capacity: 8
Instructor: Karen Kubby
Prerequisites: Cubed Right Angle Weave—see Intro class on January 12.
Description:
Use Cubed Right Angle Weave (CRAW) and Toho seed beads to create a curved armature as the base of the pendant.  Then embellish with layers of Swarovski crystals.  This project can easily be made bigger for a larger pendant and done twice to create a pair of earrings.
Take both the Intro and Pendant class for double rewards points.