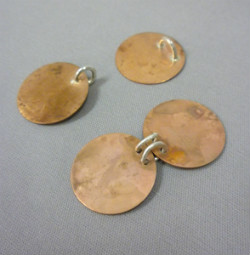 Soldering Sampler–only one seat left!
Date and Time: 11/19/2017 from 10:00 AM - 1:00 PM
Capacity: 6
Instructor: Kelly Kinser
Prerequisites: No experience necessary.
Description:
This workshop involves beginner and intermediate soldering. Learn and hone a variety of soldering skills—connecting an open jump ring, adding a ring to another piece, and more. Participants will walk away with a sampler of soldering pieces using copper disks and sterling wire.
This class serves as a pre-requisite for many metal working classes.  
Take this and Metal Bezels in the afternoon for double rewards points.