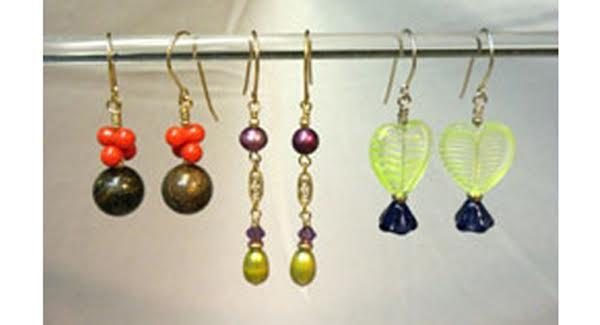 Make 3 Pairs of Earrings: Intro to Wirework
Date and Time: 07/14/2018 from 1:00 PM - 3:00 PM
Capacity: 6
Instructor: Cheryl Weatherford
Prerequisites: No experience needed.
Description:
Learn how to use jewelry making tools to make a wrapped loop.  This skill allows you to make dangles for earrings or pendants that are beautiful and secure.  A second skill taught is making a closed wrapped loop inside of a closed loop, allowing you to attach dangles to a closed loop such as a chain.  You will make earrings from glass, stone, pearls, and Swarovski crystals.
Note this Bargain: Also sign up for Intro to Stringing  and get double rewards points.
This class serves as a pre-requisite for the Dragonfly Pendant class on July 21. Take both classes for double rewards points.