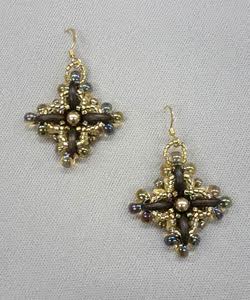 Gyrls Night Out: Cosmic Flora Earrings
Date and Time: 01/25/2019 from 5:30PM to 8:30PM
Capacity: 8
Instructor: Karen Kubby
Prerequisites: No experience needed.
Description:
Create diamond shaped earrings out of CzechMate crescents, superduos, Delicas, 2 sizes of Toho seed beads, and a Swarovski pearl. This pattern is by Estelita Mayac Chiles and uses circular netting. This session helps people follow the pattern published in the Dec 2018/Jan 2019 Beadwork magazine. Participants must have or purchase a copy of the magazine to register.
If you have the magazine already and wish to register, please call or come in to the store. The registration fee if you bring your own magazine is $60.