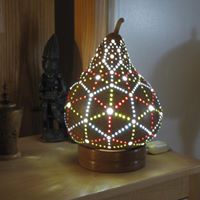 Date and Time: 12/13/2019 from regular business hours
Cost:
Capacity:
Description: Rick Hugill is a local woodworker. He takes locally grown gourds and transforms them into amazing lamps. Using ink, drilling, and adding beads, he creates one of a kind lampshades with handmade wooden bases. His exhibit will include floor and table lamps.

This exhibit & sale starts on November 22.