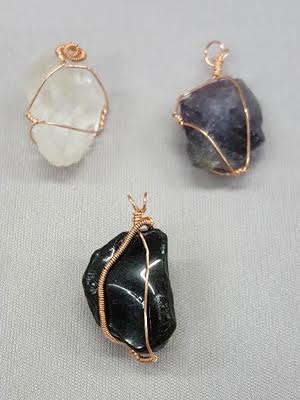 Wire Wrapping Stones
Date and Time: 11/10/2018 from 10:00 AM - 1:00 PM
Capacity: 6
Instructor: Cheryl Weatherford
Prerequisites: Basic wrapped loop--see Make 3 Pairs of Earrings on Nov. 3.
Description:
Learn the basics of wrapping stones with wire.  Students will practice with copper wire to form a plan for a particular semi-precious stone, then move to sterling wire for the final project.
NOTE: This class serves as a pre-requisite for Wire Wrapping Stones 2.0 on Dec. 1.